The Benefits of 40-Year Term Life Insurance for Professionals
In the Term Life Insurance game, there is a new player on the field: 40-Year Term Life Insurance. While two companies have led the way in offering this insurance, Banner Life and Protective Life, other carriers may soon be adding this type of insurance as well. 40-Year Term Life Insurance has some distinct benefits that are a good fit for professionals such as veterinarians and orthodontists. 
Finding your own life insurance policy may mean breaking away from the group insurance crowd, but it ensures that you are protected at the level that is right for you. For Veterinarians and Orthodontists who have just graduated residency and are looking for life insurance, the new 40-year Term Life Insurance policy may be the right option. And, for those professionals who are older but are seeking life insurance coverage through their retirement years, this type of policy might be a good fit. 
In this article you'll get to know the pros and cons of the 40-Year Term Life Insurance Policy, and see if it is the kind of life insurance that you would want to learn more about. We'll focus on Banner Life and Protective Life, since they are the carriers who currently have this available. 
Confused by all your options when it comes to insurance? Know you need it, but just don't know where to start? If you need life insurance for your business or personal needs, Loyall Group is dedicated to unraveling the chaos for you. We know insurance, and provide a fast online quote process. It's an easy way to start getting clarity on all things insurance. Click here to connect with us today. 
Comparing the 40-Year Term Insurance from Banner Life and Protective Life 
Both companies that currently offer the 40-Year Term policy have differences in their options available to policyholders. To see these differences, let's look at a chart comparing the two companies: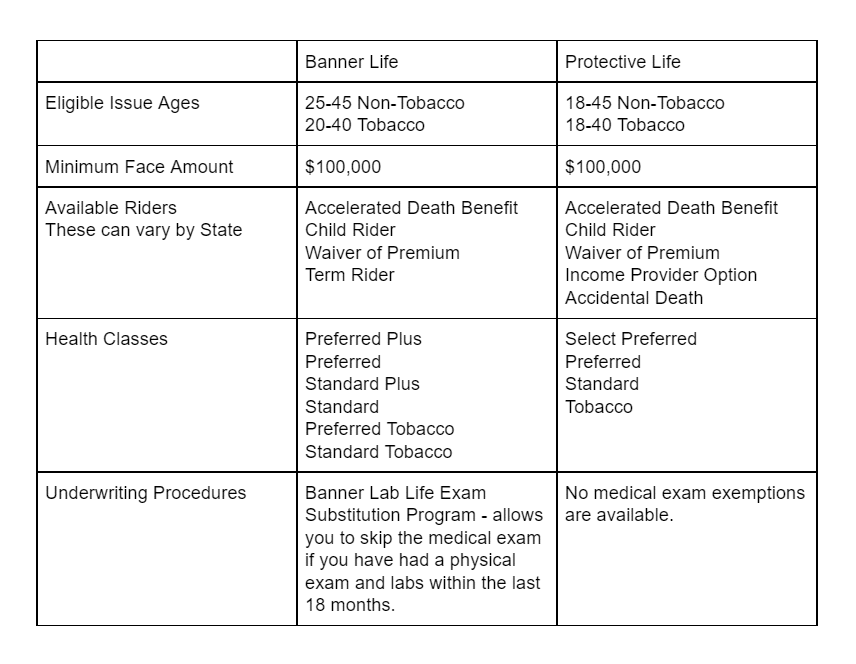 Riders Available on a 40-Year Term Policy
Both Banner Life and Protective Life offer riders to attach to your 40-Year Term Policy. These make it even more attractive, offering you benefits through the lifespan of the policy. Riders Available on a 40-Year Term Policy 
The riders available include: 
Accelerated Death Benefit 
This rider allows you to use the face value of your policy to pay for medical expenses if you are diagnosed with a terminal illness. This is a living benefit, and can ease burdens for you and your family. This also allows you to keep your policy even with medical bills, putting your family on a more secure standing. 
Child Rider 
This rider will pay a small portion of the death benefit to you if one of your children dies. 
Waiver of Premium 
This rider will waive the insurance premium cost if the policyholder becomes disabled or critically ill. It is important to include this to protect your life insurance policy from lapsing. Equally important is getting a great disability insurance policy. A good one will have True Own Occupation language and will protect your entire income in the case of disability. 
Term Rider 
A Term Rider adds a small portion of insurance to the policy for a specific period of time. This can be an easy way to get maximum protection. 
Protective Life has the Income Provider Option instead of the Term Rider. This allows the insured to choose how the death benefit is paid. Usually, it can be paid through a lump sum, monthly payments for a specific amount of time, or a combination of the two. You can read more about this rider here. 
Accidental Death 
This rider is only available on the Protective Life policy. It pays a higher death benefit to your beneficiaries if you die an unexpected or accidental death. 
The Pros: Best Coverage for Both Younger and Older Applicants 
The biggest way to save money on your life insurance is to get it while you are young. If you are young and healthy, your underwriting process will be smooth, and you will qualify for a low rate. When you choose a 40-year policy, that low rate will be locked in for the duration of your career. That means savings on time, stress, and finances for you. 
And if your goal in purchasing life insurance is to provide lifetime coverage or an inheritance for your family, you may also benefit from the 40-year policy. Older applicants who get this insurance at 45, for example, could use this policy for a final expense policy. This would be done through the conversion privilege, where the policy can be converted to a permanent policy without additional medical underwriting at the end of the 40 years. 
No matter what your goals are in getting life insurance, a 40-year term life insurance policy may be a great way to meet them. Talking with an experienced advisor is the best way to see if you would qualify for this policy. Here at Loyall Group, we get to know you personally, including your dreams and financial goals. Start with our easy online quote process to connect with us and see what your options are. 
How Much a 40-Year Term Life Insurance Policy Will Cost
One of the best benefits of Term Life Insurance is the low price compared to a whole life policy. Especially when you get your policy young, you can lock in an affordable monthly rate. And, with this new 40-Year Term Life policy, that rate will be locked in for all of your earning years. 
Let's see how much a 40-Year Term Life policy costs and compare it to a typical 30-Year Term life policy. 
Here is a chart of monthly premium amounts based on a 30-year-old Female, $500,000 policy, best class for each company: 


This next chart shows the monthly premium for a 30-year-old Male, the best class for each company:


Quotes from Banner Life and Protective Life, September 2021. Rates may differ.
As you can see, while a 40-Year Term Policy is slightly more expensive, you are still locking in a low insurance rate. And, you are ensuring that you are protected through your career and during the first years of retirement. 
We Are Focused on the Right Policy for You
You can get a quote today on a 40-Year Term Life Insurance Policy. We get to know you as an individual, and work with you to understand your goals. In insurance, there isn't a one-size-fits-all solution. We offer personalized service, and put our focus on the best policy for you. So start with a free 15 minute consultation to see if a 40-Year Term Life Insurance policy is right for you.