Legal and General Adds to the 40 Year Term Life Insurance Lineup
At a time when many insurance companies are rethinking their New York products, Legal and General is breaking into the 40-Year Term Life Insurance product. A relatively new type of policy, having life insurance for 40 years can be a game changer for many professionals. Those in the veterinary and orthodontist professions would benefit from a long-term policy that they could take into retirement. 
Want to see if the 40-Year Term policy is right for you? Contact Loyall Group today for a quote! 
Options Are Limited in NY 
Investment News recently reported that Lincoln Financial, Jackson National, and Penn Mutual pulled some of their insurance products from New York State. Due to a new law called the "Best Interest Law", insurance companies are going to have to decide whether they want to take on the changes required or drop life insurance products in the State altogether. 
Regulations aren't just tightening in NYS. At least three other states at this point are considering similar laws. But the regulations were already pretty stringent, according to an article by Insurance News Net. The biggest change prompted by the new law is that insurance companies must clearly show the potential customer the difference between fee-based and commission-based products. Electronic signatures are also monitored and must be preceded by a set of regulations called Reg 187. 
At a Time When Others Are Downsizing, Legal and General is Leading 
But at a time when others are considering whether to pull their life insurance products in the State, Legal and General is expanding their offerings. They have an impressive track record for financial stability and growth. Comdex scores go a long way in establishing trust. For Legal and General, they have comdex scores at 95, AA-, and A+, clearly demonstrating their financial strength. 
In addition to their financial strength, the company takes an invested interest in helping others. They have awarded their Life Lessons Scholarship for ten years. According to this NBC article, they give this scholarship to an incoming college freshman who has demonstrated perseverance after losing a parent or guardian without life insurance. Their recipients are very worthy of the scholarship, and for many of them, it makes the difference to go to college. Working for others is a hallmark of the company. Their new 35 and 40-Year Term Life Insurance policies do the same, protecting people in the way they need it. Let's take a look at the many benefits of a long term policy. 
The Benefits of a 40-Year Term Life Insurance Policy 
No matter where you are in your financial journey, it may be a great time to invest in a 40-Year Term policy. There are many benefits for both younger and older individuals. 
Since a term policy is cheapest when you purchase it at a young age, younger applicants can lock in a low rate, and keep it for the duration of their career. Instead of having to re-apply 30 years later, applicants will be able to keep their policy for an extra ten years. In addition, many of these policies include a conversion option. 
Speaking of conversion options, they could be an essential part of your financial plan. It can help you meet financial goals, such as paying for final expenses or being able to give your children an inheritance. At the end of the 35-40 year policy, you would have the ability to convert to a permanent policy without additional underwriting. 
Going through underwriting once saves any applicant time and money. Ensuring that your policy extends through your career, and even into retirement, can provide a peace of mind for your family members. 
A 40-Year Term Life Policy Still Represents Long-Term Savings
If you are thinking that the premiums for a 40-Year term life policy are high, you are going to be surprised. While they are slightly higher than a smaller time frame, they are still affordable. Take a look at this comparison chart between Legal and General's Term Life Insurance Policies. The chart below is using data obtained in October 2021, and is based on a 30 Year Old, Non-Smoker, $500,000 Benefit: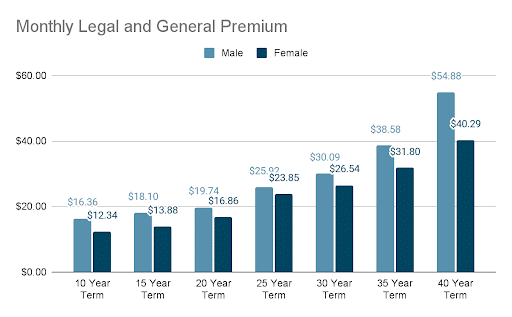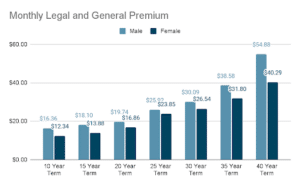 While the 40-Year Term policy is more expensive than other terms, it offers the longest standing value. Applicants are able to lock in low prices, as opposed to running through underwriting again if they need more coverage through the years.
Is It Right For You? How a 40-Year Term Life Policy Can Expand Your Protection 
One of the biggest myths about life insurance is that you don't need it. Many people will say they don't need it if: 
They don't have children 

They are retired 

They have a lot in their retirement accounts 

They are a stay-at-home parent 

They are young and healthy 

They get a basic group policy through their employment 
But, the problem is that life insurance is designed for the totally unexpected: a premature death. Preparing for the unexpected is one of the best ways to protect your family members. Even if you are young and healthy, or have a lot of money saved in retirement, your final expenses could be paid for by your policy. This relieves your family members of a financial burden in the midst of grief. 
A 40-Year Term policy may be one of the best ways to ensure you are providing for and protecting your family members. The biggest benefit out of the investment may be one you never see. But you can appreciate the peace of mind knowing that you have a policy that will carry you through your wage-earning years, pay for final expenses, or keep your spouse living well in retirement years. 
Wondering whether you should go long-term with a 35 or 40-Year Term Life Insurance Policy? Contact Loyall Group today to get a free quote! When you contact Loyall Group, we will take the confusion out of insurance and help you meet your financial goals.