The High Cost of Education for Veterinarians
For veterinarians, the fulfillment and personal satisfaction of veterinary science is often the number one motivator in pursuing the career. You get to be a superhero to animals every day, relieving their pain and suffering, making them well, and educating the people who care for them. No two days are alike, and the variety and challenge of the work is something you rise to. You get to be a problem solver, always learning more about different animals and up to date methods on keeping them healthy. 
And, you've worked hard to get to this career. Veterinary school takes commitment and hard work. You've probably done eight years already for your undergraduate and graduate degrees, and if you are looking to become a veterinary surgeon, you have another 2-3 years ahead of you. 
But all of the education often takes a toll on finances. Veterinarians have some of the highest student loan debt of all occupations, according to this article by Credible. In fact, according to the American Veterinary Medical Association, the average veterinarian graduates with $167,534.89 in debt.
You've put so much effort into becoming a Veterinarian. But life always throws us curveballs, and one of them may be a disability in which you aren't able to practice as a Veterinarian anymore. Today, there is a Student Loan Rider on some disability carriers that gives you the highest level of protection and allows you to keep paying back your student loans even if you can't work as a Veterinarian. Contact Loyall Group today to find out more and see how you can get this important protection. 
Let's take a look at the current student loan debt crisis facing veterinarians, and how it compares with veterinary school costs and income of the past decades. 
How the Price of Veterinary School Has Grown
Veterinary School wasn't always this expensive. According to a 1987 survey by the American Association of State Colleges and Universities, the average in-state tuition for veterinary medicine in 1987 was ​​$3,601. Compared to the current average cost of between $28,000-$54,000, that represents a 77% increase in tuition rates over a period of 34 years. 
To get some clarity, let's look at the following chart representing the tuition for UC Davis' School of Veterinary Medicine for their DVM Degree for In-State Residents. This chart represents the total cost of the degree for all four years: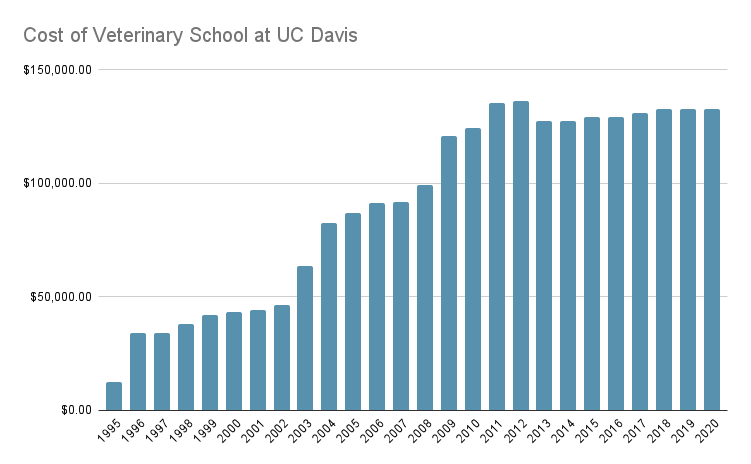 Data: UC Davis Finance and Business Historical Fees 
While UC Davis is just one example, the rise in tuition is consistent across all veterinary schools. Next we will examine all U.S. Veterinary Schools' current tuition rates. 
Current Veterinary School Tuition 
Factors such as a decrease in Federal and State funding, increase in medical equipment cost, and increase in regulations and accreditation requirements all influence a rise in veterinary school tuition. Take a look at the current tuition rates of United States veterinary schools below: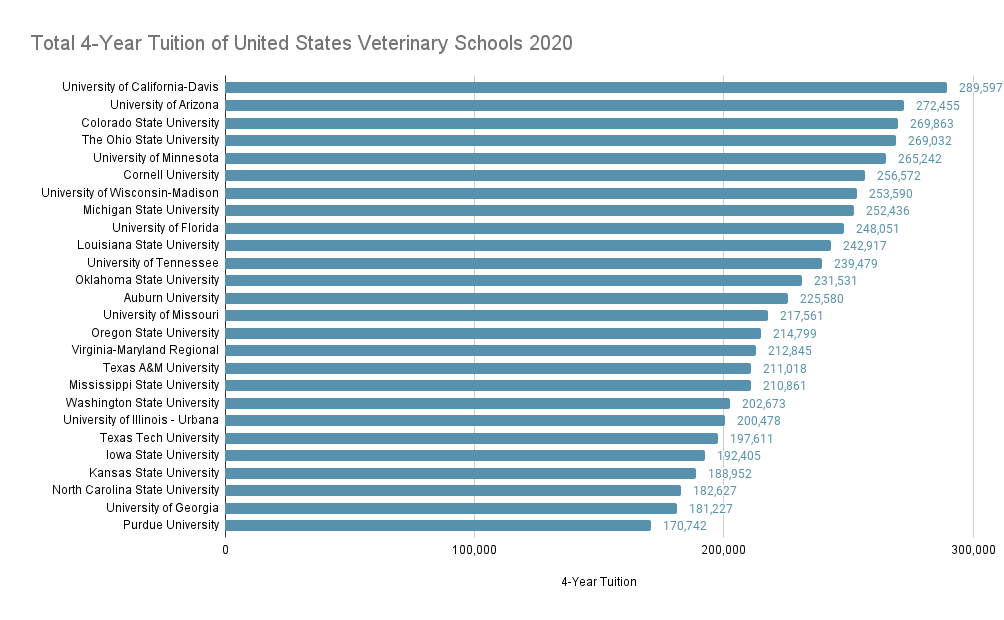 Source: American Association of Veterinary Medical Colleges
The high rate of tuition means that most veterinarians will need to take out loans. Going into veterinary school, many aspiring veterinarians may have questions about student loan debt they will be required to take out to complete their degree. And while veterinarians should consider how much debt they are taking on, they should also understand their earning potential after graduation. 
What do Veterinarians Earn Today? 
Veterinary salaries depend on a variety of factors. Whether you work in a non-profit, own your own practice, or even the State you live in can change your income potential. According to the Bureau of Labor Statistics, veterinarians make an average of $99,250 per year. 
If you decide to specialize, you'll earn more: on average, specialists earn between $121,000-$199,000 per year. However, with that specialization comes at least three additional years of education, on top of the 8 years you need to become a veterinarian. More education means more debt, so your debt-to-income level may still be similar after specializing. 
Comparing Veterinary Debt-to-Income Ratios from 2007-2020
Your debt-to-income ratio is an important figure in managing stress levels related to finances. Veterinarians already have other stress factors aside from their bills. Anything from a malpractice suit to surgical emergencies can amplify a veterinarian's stress load. 
One of the biggest concerns for a veterinarian is the ability to pay back loans in the event of a disability. If you become disabled, even through an unforeseen chronic illness, and can't work, your student loan payments will still be there. Fortunately, today there is a Student Loan Rider on Disability Insurance that is designed to cover all or a portion of your student loan debt in the event you aren't able to practice Veterinary Medicine. Reach out to Loyall Group today to ask if you qualify for this important coverage. 
Providing quality care to your patients requires that you manage your stress well, including managing paying back your student loans. When we analyze the data on average debt loads to average income levels, we can see that the debt-to-income ratio for veterinarians is slowly shrinking. 
However, ratios among those in the professional medical occupations are still the highest for veterinarians. According to this article published in the American Journal of Pharmaceutical Medicine, veterinarian debt-to-income ratios remained over 160% from 2011 onward, compared to 141% for pharmacy and 95% for physicians. 
Below is a chart indicating average debt-to-income ratios for veterinarians from 2007-2020: 
| | | | |
| --- | --- | --- | --- |
| Year  | Median Debt of Graduating Veterinarians  | Median Salary  | Debt-to-Income Ratio |
| 2007 | $103,573 | $84,090 | 1.23 |
| 2008 | $110,507 | $89,450 | 1.23 |
| 2009 | $114,637 | $90,110 | 1.27 |
| 2010 | $121,518 | $92,570 | 1.31 |
| 2011 | $129,718 | $91,250 | 1.42 |
| 2012 | $140,789 | $93,250 | 1.50 |
| 2013 | $146,616 | $96,140 | 1.52 |
| 2014 | $148,343 | $98,230 | 1.51 |
| 2015 | $156,683 | $99,000 | 1.58 |
| 2016 | $156,480 | $100,560 | 1.55 |
| 2017 | $166,714 | $101,530 | 1.64 |
| 2018 | $152,358 | $105,240 | 1.44 |
| 2019 | $149,877 | $104,820 | 1.42 |
| 2020 | $157,146 | $108,350 | 1.45 |
Sources: Median Debt from the AAVMC 2017 Report, Income figures from Bureau of Labor Statistics, Journal of the American Veterinary Medical Association 
So, is veterinary school worth it? Aside from the benefits of the satisfaction of the job and work itself, being a veterinarian is still a profitable career path. You just have to know how to manage your student loans well. 
Affordability of Veterinary School Today: Does Veterinary School Make Sense?  
Speaking from a financial standpoint only, veterinarians are on track to increase salaries as they put years into the career. Factors such as private vs. public practice, how many hours per week you work, and the type of veterinary services you offer influence your income. Overall, if you view veterinary practice as a life-long career, your income will eventually exceed your debt. The 2016 AMVA Report on the Market for Veterinarians shows that 20-25 years into your practice, the average salary for veterinarians exceeds $140,000 per year. 
What to Do About Your Veterinary School Debt: Get an Experienced Student Loan Advisor 
In the meantime, what steps can you take to release the stress of your student loan debt? Start talking with an experienced student loan advisor who can give you expert advice. No two graduates have the same financial situation, goals, or lifestyle needs. Building a relationship with a qualified advisor ensures that you are receiving individualized counsel for your situation. 
Contact us here at Loyall Group to be connected with a nationally-recognized affiliate in student loan counsel. Instead of getting a one-size-fits-all approach, you'll get an easy 15-minute phone call to start a plan to conquer your student loan debt.