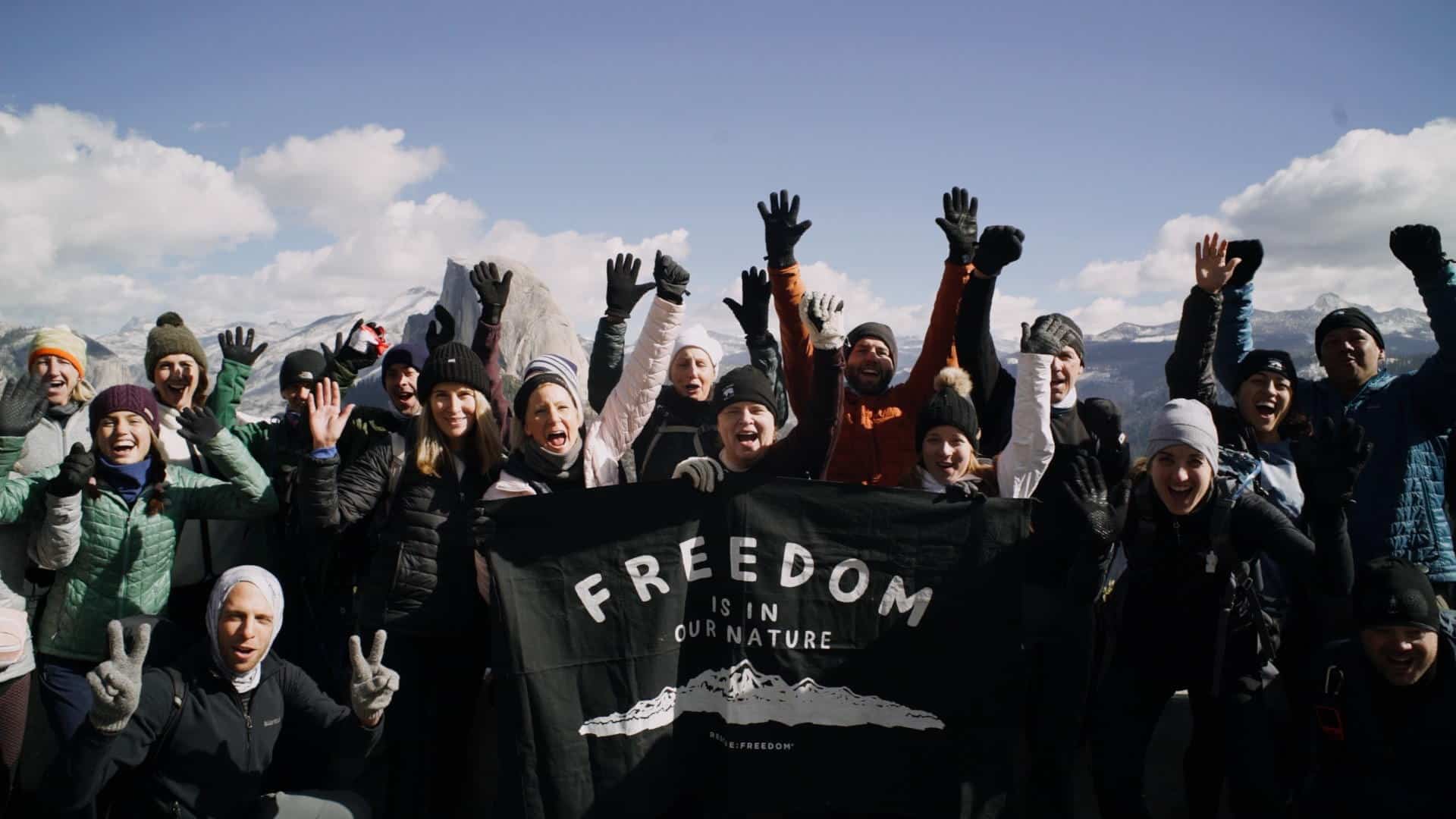 A Freedom Hike for All Along Yosemite's Most Beloved Trails
Few things in life can get your heart pumping like preparing for a big hike. Merely glancing at photos of mountaintops has lulled many into long daydreams where they imagine cresting remote peaks, encountering wildlife, and beholding vistas few on earth have ever seen.
Hiking mountains is fun — a lot of fun. It's good for the heart and soul. There's a reason Lewis and Clark took so long exploring our country's rivers and trails: there was so much to see!
But my favorite thing about hiking is that it brings people together. You don't need to have any innate skills or natural gifts when you start. Almost anyone can become a strong hiker if they are willing to put in the mileage, and the experience of hiking a mountain becomes even more memorable when you share it with others. As you train together, camaraderie grows within the group. A unique bond forms out there in the wilderness, and you become a little hiking army.
Put simply: when you're hiking, what matters most is your devotion to change. I think that's why hiking has always meant so much to me. Many of my life's most significant undertakings have been motivated by a desire to change things for the better. That desire was what initially compelled me to become a different kind of insurance broker when I started Loyall Group — one who put the focus back on serving and protecting other people. It also inspired me to found the California Yosemite Freedom Hike.
Discovering the Power of Each Other
The preparation for a hike begins long before the morning you arrive at the trailhead. Training usually commences weeks — sometimes months — in advance, with frequent REI trips to acquire the perfect gear.
But once you're on the trail, you have only three things to depend on: prayer, your Garmin mini inReach, and each other. Once you strip away modern conveniences and distractions, something extraordinary happens. A beautiful bond of trust develops, which is all-too-often absent from our busy, day-to-day lives. Somewhere along miles of worn dirt paths and never-ending switchbacks, you learn to draw nearer to the people around you.
Lifetime friendships have formed on the sides of many mountains. Something uniquely satisfying happens when you endure a difficult thing together: it etches a memory in the deepest part of your being, the kind that not even time can easily erase.
As a trail guide, I have the privilege of witnessing countless hikers as they make this transformation. For months, I watch them persevere through rigorous training. I stand beside them as they convene at the trailhead, their nervousness mingling with excitement. I see the glow on their tired, happy faces when night falls after a job well done. Summiting a mountain tends to have that effect on you.
Hiking Together for a Better World
The California Yosemite Freedom Hike started out like many of my other business ideas. I was trekking along the picturesque coast of Big Sur in the middle of a hot July afternoon in 2018 when I was struck by a flash of inspiration.
What if there was a way to bring the freedom I experienced while hiking to other people who didn't have the same opportunities? What if I could use this transformative experience to change other people's lives as well?
Then it came to me: I would co-ordinate and lead a hike to raise funds for the fight against human trafficking — an illegal industry that deprives over 20 million people of their freedom each year, most of them women and girls.
While my hikers were gathering their gear and training, they would also be helping to provide new lives and legacies for marginalized people around the world. Whole families and their future generations would walk in freedom because of a weekend where our group walked through the mountains and slept under the stars.
After much research, Yosemite was chosen to host the hike. Over the next few months, I found and connected with Freedom Hikers and Rescue Freedom, who do incredible work in the fight to stop human trafficking.
The California Yosemite hike was launched on September 19, 2019. Twenty hikers had an incredible weekend hiking and raised $25,000 to support Rescue Freedom.
On November 7th, 2020, close to forty hikers braved blizzard conditions and raised $55,000 for Rescue Freedom.
Next year's 2021 hike will be held on August 28th, 2021. This time, we will be expanding to offer fifty hiking spots and adding a day of river rafting for the first to sign up.
How Our Efforts Continue to Make a Difference
The hikers on these expeditions are entirely self-funded. To keep costs reasonable, we rent private homes on the west side of the park and have delicious, family-style meals together. Hikers and trail leaders work in tandem to support our fundraising efforts as they invite and train others for the coming adventure. It all pays off when we hit the trail to celebrate our success and enjoy a weekend exploring the outdoors.
Since private donors cover Rescue Freedom's operating expenses, every penny that the California Yosemite Freedom Hike raises goes straight to the field. Our work plays a direct and measurable role in rescuing those caught in the snares of human trafficking. If you want to learn more, hike with us, or pay it forward to support the 2021California team, email us at freedomcahike@gmail.com.
A trailhead might just be calling your name right now. You're never the same after hiking a mountain — and on this hike, you can change other people's lives for the better as well.